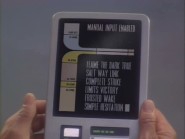 One futuristic aspect of phones and tablets is how much they resemble the Personal Access Data Devices (PADD) used by the crew on Star Trek. A touch sensitive screen, wirelessly connected to the computer network, displaying a wide range of information, I love it when sci-fi invents reality ...

But the thing I liked most about them is how they sounded! Everything I know about Audio UI, I learned from Star Trek, and their devices produced quite wonderful soundtracks. They perfectly reflected the user's experience, and were clearly audible even in high noise environments (like Engineering).

Of course, they had the advantage of being fictional, but wouldn't it be great if our devices sounded like that? I've been talking about "using game audio techniques to generate system sounds" for three years now, but without much luck getting it implemented. I tried selling the idea to Danger; they were too busy. I tried selling it to Microsoft; no dice (too innovative?) I even tried selling it to Google; wow, they were REALLY uninterested.


Because it's hard for others to hear what's only in my head (or as I like to say, "talking about music is like smelling a painting"), I wrote notepadd as a proof of concept. It's a sonified version of the example.android.notepad code, and generates audio for app in/out, note left/right, and menu events.

Each UI sound is made by playing a random sequence of very short .ogg files, each varied by pitch and volume. The result is a series of "unique, but sonically related" sounds, played in response to user interaction. This not only produces a lively soundtrack, it eliminates the annoying effect of "playing the same damn sound over and over and over again, every time you hit that button!"

I'd patent the idea, but it's nothing new. In case you weren't paying attention, this is exactly how game audio has been produced for the last 20 years! Nobody plays the same gunfire sample over and over anymore. Instead, gunshots are generated by mixing together a bunch of audio files according to an algorithm. That's all I'm doing with notepadd ...

Of course, the iPhone deals with the problem of repetitive UI sounds the old-school way: silence. And so now, by convention, most cell phones run silent too, except for those annoying ringtones. That's a shame, because in the movies, computers and mobile devices always make UI sounds, and they always sound great!

I just want reality to sound a bit more like science fiction ...

SO if you've got a Nexus (or other open android phone), download the app, install it, play around with it, and let me know what you think in the comments. It also supports multiple audio themes, including a fun Cybertron setting ...

- pdx

p.s. if you're interested, the Eclipse project is available on my Twittering Machine code page.

Update April 2012: Now Available On Google Play!